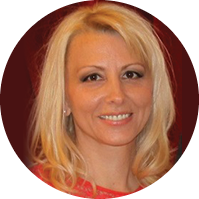 Monica este systemic business coach, membru ICF si trainer si coach certificat PCM. Pasiunea ei pentru coaching provine din dorinta de a darui mai departe beneficiile propriei transofrmari pe care a experimentat-o prin programe de coaching.
Descoperirea modelului PCM a adus pentru Monica noi perspective legate de dezvoltarea oamenilor, reprezentand un instrument pentru a construi relatii pozitive la nivel personal si profesional, atat din punct de vedere individual, cat si al persoanelor care conduc o echipa.
Monica ajuta persoanele sa dobandeasca claritate si sa aiba constientizari care ii mobilizeaza sa progreseze si energizeaza fiecare aspect al vietii acestora. Lucreaza cu antreprenori care privesc dezvoltarea oamenilor ca un avantaj competitiv strategic pe o piata a muncii foarte concurentiala.
Inainte de a face tranzitia catre coaching, Monica a lucrat mai bine de 20 de ani ca Senior Marketing Executive and Business Development pentru companii multinationale si antreprenoriale de diverse marimi, ce activeaza atat B2B, cat si B2C. Are experienta in urmatoarele domenii de activitate: FMCG, beauty/wellness, e-commerce, education and retail.
O puteti contacta pe Monica accesand profilul ei de Linkedin – Monica Cretu sau pe e-mail la mo.cretu@gmail.com.
---