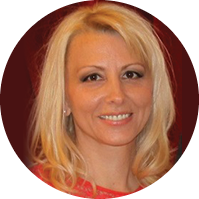 Monica is a systemic business coach, ICF member and PCM certified Coach and Trainer.
Her passion for coaching comes from the willingness to pay forward for her own personal transformation while experiencing coaching. The discovery of PCM shone a light on new perspectives for people development, as a tool for building positive personal and professional relationships, at individual level but also for managers and their teams.
She helps individuals to get insights and clarity for them on how to move forward in a way that propels them to energize all aspects of their life.
Monica partners with entrepreneurs who see people development as a strategic competitive advantage on a very challenging workforce context.
Before moving to coaching, Monica worked for more than 20 years as Senior Marketing Executive and Business development for B2B and B2C multinational and entrepreneurial companies of various sizes. Her experience covers a broad range of industries : FMCG, beauty/wellness, e-commerce, education and retail.
You can get reach Monica through her Linkedin profile – Monica Cretu or by writing an email to mo.cretu@gmail.com.
---