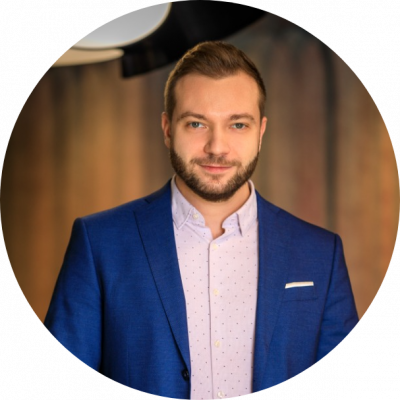 Mihai has a 15 years' experience in commercial teams and for more than eight years he activates in the training industry, leading Brightway®, one of the most dynamic training companies in Romania. He delivered and coordinated professional and organisational development programs for more than 200 companies such as Adobe, Amazon, British American Tobacco, HP, ProTV, Raiffeisen Bank, Mercedes-Benz, Société Générale, Toyota or Velux.
Understanding the essence of problems that participants face, Mihai Arghire emphasises concrete techniques for participants to apply PCM® at the workplace and in personal relationships. Using his experience in leadership and entrepreneurship, he facilitated the implementation of Process Communication Model® both in top management teams, but also in all the layers of the organisation.
The main projects that Mihai implemented using PCM®, fulfilled following goals: dealing with conflicts, improving results in negotiations, improving communication and team relations within the management board, implementing a behavioural analysis in the recruitment process, improving relations between managers and team members.
Mihai saw in Process Communication Model® a methodology tool that can contribute to a deeper understanding of self-behaviour and in the same time the tool to make a team or organisation more efficient by understanding others. He followed the certification program with John Parr and became a certificated trainer in 2019, managing to provide his business partners one of the most useful personality methodologies world-wide.
Experience shows that even though the Process Communication Model methodology is very appealing and participants can easily resonate with the model, integrating PCM® as a default tool in daily activities of someone requires repeated training and time. The development programs that Mihai delivers are followed by weekly assignments for three months after the end of the training stage, so that participants manage to apply PCM® methodology in their own activity and develop their new communication and personality analysis skills.
The learning methods are experiential, participants applying the tools in simulations, video exercises and case studies. In this way, every person acquires and masters a new practical skill set. These learning techniques were adjusted and calibrated by Mihai and Brightway's specialists together with more than 20.000 participants and 300 companies from different industries.
Process Communication Model® can open a new perspective in your personal and professional relationships and in the way you communicate with everyone around you. It can lead to the success of your organisation by adapting the communication process to the needs of others, solving this way many of the previous tensions and blockages.
You can get in touch with Mihai accessing the page PCM – Communication techniques Course, his Linkedin Profile or by phone +40 745 755 484.
Mihai and his colleagues from Brightway® can help you to make a diagnosis that will provide you the best methods through which you can implement PCM® at a personal level or in your organisation.
---